contacts
contacts
Publisher information
The music of Gerard Schurmann is published by Wise Music Classical in the United Kingdom and is handled by G.Schirmer / AMP in the United States and by Wise Music Group, Ltd. worldwide. Schurmann scores may be purchased online from musicroom.com in the UK and from sheetmusicplus.com in the USA.
UNITED STATES

Peggy Monastra
(Schirmer Senior Promotion Advisor)
G. Schirmer, Inc. / Associated Music Publishers, Inc.
180 Madison Avenue, 24th Floor
New York
NY 10016
USA

Tel: +1 212 254 2100
Fax: +1 212 254 2013
Email: schirmer@schirmer.com
peggy.monastra@schirmer.com
UNITED KINGDOM
(promotion and copyright)

Samuel Wilcock
(Promotion Department)
Wise Music Classical
14-15 Berners Street
London W1T 3LJ
England

Office: +44 (0)20 7612 7465
Mobile: +44 (0)7917 031162
Email: sam.wilcock@wisemusic.com

UNITED KINGDOM
(Hire Library)

Wise Music Group Hire Library
Unit F3, Dettingen Way,
Bury St. Edmunds
Suffolk
IP33 3TU
England

Tel: +44 (0)1284 596 004
Email: hire@wisemusic.com
Gerard Schurmann Foundation
For information about the Schurmann Foundation, please contact Nigel Bonham-Carter at Kerseys Solicitors, 32 Lloyds Avenue, Ipswich, Suffolk IP1 3HD, United Kingdom. Tel.: +44 (0)1473 213311; Fax: +44 (0)1473 214874. e-mail: nigel.bonham-carter@kerseys.co.uk
Website information
Please direct enquiries about this website to
enquiries@gerard-schurmann.com

Website design: Keith Bramich of
Orion Computer Consultants Ltd.
Links to other websites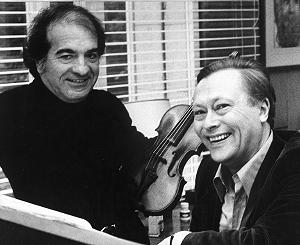 Gerard Schurmann with Ruggiero Ricci