films
films
Until recent years it was a time-honoured tradition that, in the main, British films be scored by established and emerging classical composers. Vaughan Williams, Arthur Bliss, William Alwyn, Alan Rawsthorne and William Walton all willingly contributed to British Cinema, as did Gerard Schurmann's contemporaries Richard Rodney Bennett, Elizabeth Lutyens, Don Banks, Malcolm Williamson and Peter Maxwell Davies. For Gerard Schurmann film commissions provided both a welcome additional source of income and an unrivalled opportunity for experiment. And whilst his concert compositions have, in some part, been informed by his empirical work for film, it is also evident that his music for the Cinema adroitly conjures the diverse modes displayed in his classical compositions to uncommon dramatic effect. Betraying little evidence of artistic compromise, the cinema scores readily communicate without resort to cliché, with the composer's customarily vibrant musical hues imbuing extraordinary audiophonic colour to the given films. Also of note is Schurmann's keen dramatic sense - his music for film always providing the correct emphasis, bringing credence and import to a diverse array of complex emotional, comic and action-packed sequences.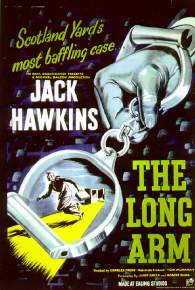 Gerard Schurmann was originally introduced to the Cinema by his mentor Alan Rawsthorne, who had made something of a success of scoring films; and it was at Rawsthorne's recommendation that the young Schurmann gained his first cinema commission - for THE LONG ARM - an outstanding police drama starring Jack Hawkins and produced at the renowned Ealing Studios. Impressed by his vital and arresting score, Ealing Studios also asked Schurmann to compose the music for Jack Hawkins' next project - the potent and exciting MAN IN THE SKY - with the composer completing a Jack Hawkins triple by also scoring the same star's wartime espionage thriller THE TWO-HEADED SPY.
Commissions were soon forthcoming from other potentially fascinating areas. During the Fifties and into the Sixties, Britain produced many macabre yet enterprising horror films. They were generally reviled by contemporary commentators for their lack of taste and plenitude of gore, but time has seen them mature into classics. The horror film as a genre presented an irresistible challenge for many composers - not least Gerard Schurmann. Here modernism, musical complexity, atonalism even, were accepted as part of the everyday language of the horror film - and the composer was under few artistic or stylistic constraints. The opportunity for experiment was considerable and compelling. Schurmann's fiendishly realised cycle of scores for horror films are worthy of study both by virtue of their extraordinary invention and their dramatic potency. By happy coincidence those same films, critically dismissed at the time, are now feted for their excellence. They are the subject of retrospectives and high regard - although their titles still possess ominous allure: HORRORS OF THE BLACK MUSEUM, KONGA, THE CAMP ON BLOOD ISLAND, THE LOST CONTINENT.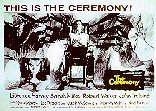 Mainstream Cinema, however, still beckoned Gerard Schurmann with choice and varied subjects - the stark cold-war treatise THE BEDFORD INCIDENT with Richard Widmark and Sidney Poitier - the dense and artfully mounted THE CEREMONY, starring and directed by Laurence Harvey - DR SYN, a riotous period romp alive with smuggling and derring-do under the expert auspices of Patrick McGoohan and George Cole -
ATTACK ON THE IRON COAST, a spirited Second World War actioner commanded by Lloyd Bridges - CONE OF SILENCE, drawing its drama from a disturbing examination of airline safety procedures, and featuring Michael Craig, George Sanders and Peter Cushing - CLARETTA, a lavish re-enactment of the last days of Mussolini and his mistress Claretta Pettaci, delectably personified by Claudia Cardinale - and most recently THE GAMBLER, vividly recounting some lean years in the life of Dostoyevsky, the author played to perfection by Sir Michael Gambon.
If there is a primary aspect of Gerard Schurmann's film music which divorces it from the routine and the prosaic, then it must be its inherent vitality. Pastoral and temperate episodes aside, the scores are infused with a dynamism, an energy, which is not only compelling but impelling, the music always a cogent force on the soundtrack, driving all before it.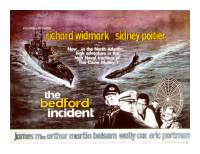 Take the intense Prelude to THE BEDFORD INCIDENT, unwinding wildly like a tightly-coiled spring, the vehement action music for THE LOST CONTINENT, the sheer bravura of THE LONG ARM's main title sequence, and the irresistible momentum of the opening of HORRORS OF THE BLACK MUSEUM - all are testament to a talent shot through with extreme verve and vigour. Gerard Schurmann invariably delivers his film music with a clenched fist. His scores remain a knockout!
Copyright © 1999 David Wishart
The Film Music of Gerard Schurmann on compact disc:
THE FILM MUSIC OF GERARD SCHURMANN
Cloud Nine Records CNS 5005
Original soundtrack recordings of suites from HORRORS OF THE BLACK MUSEUM / CONE OF SILENCE / THE BEDFORD INCIDENT / DR SYN / KONGA / THE LOST CONTINENT / THE CEREMONY / THE LONG ARM / CLARETTA / ATTACK ON THE IRON COAST
THE GREAT BRITISH FILM MUSIC ALBUM
Silva Screen Records FILMXCD 3009
ATTACK AND CELEBRATION (from "Attack On The Iron Coast")
The Philharmonia Orchestra conducted by Kenneth Alwyn
HORRORS OF THE BLACK MUSEUM - OVERTURE
Westminster Philharmonic Orchestra conducted by Kenneth Alwyn
THE LADYKILLERS -
MUSIC FROM THOSE GLORIOUS EALING FILMS
Silva Screen Records FILMCD 177
MAN IN THE SKY - OVERTURE
Royal Ballet Sinfonia Conducted by Kenneth Alwyn
HORROR! - MUSIC FROM CLASSIC HORROR FILMS
Silva Screen Records FILMCD 175
HORRORS OF THE BLACK MUSEUM - OVERTURE
KONGA - PRELUDE
Westminster Philharmonic Orchestra conducted by Kenneth Alwyn
THE GAMBLER
Virgin Classics 5 45312 2
Original Soundtrack
The London Sessions Orchestra conducted by Gerard Schurmann
CLARETTA
CBS 70253
Orchestra Sinfonica dell' Accademia Nazionale di Santa Cecilia conducted by Gerard Schurmann
THE LOST CONTINENT
GDI Records GDICD015
Conducted by Philip Martell
The films of
Gerard Schurmann:
FEATURE
FILMS
THE BEDFORD INCIDENT
THE LOST CONTINENT
CLARETTA
CONE OF SILENCE
(TROUBLE IN THE SKY)
DR SYN
alias THE SCARECROW
KONGA
ATTACK ON THE IRON COAST
THE CEREMONY
THE LONG ARM
(THE THIRD KEY)
THE TWO-HEADED SPY
MAN IN THE SKY
THE GAMBLER
CAMP ON BLOOD ISLAND
HORRORS OF THE BLACK MUSEUM
DECISION AGAINST TIME
THE RUTHLESS ONE
GHOST TRAIN MURDERS
AUX POSTES DE COMBAT
THE HEADLESS GHOST
GHOST OF DRAGSTRIP HIGH
DAY IN DAY OUT
THE NUMBER SEVEN
THE LIVING EARTH
BUT NOT IN VAIN
SOIXANTE MINUTES D'HORREUR
SCOTLAND YARD GHOST STORIES
L'INCORRIGIBLE
CHEF DE RESEAU
THE SHUNNED HOUSE
LAURENCE
EN BLANC ET NOIR
SOS SCOTLAND YARD
BESCH
THE DESPERATE MAN
THE WITNESS
DIARY OF A HIGHSCHOOL DROPOUT
PAYROLL
TELEVISION
THE SCARECROW OF ROMNEY MARSH
(Walt Disney -
Mini Series)
ORCHESTRATIONS
LAWRENCE OF ARABIA
(Maurice Jarre)
Academy Award - Oscar
EXODUS
(Ernest Gold)
Academy Award - Oscar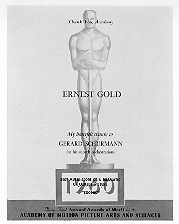 THE VIKINGS
(Mario Nascimbene)
PANDORA AND THE FLYING DUTCHMAN
(Alan Rawsthorne)
THE CRUEL SEA
(Alan Rawsthorne)
LEASE OF LIFE
(Alan Rawsthorne)
WHERE NO VULTURES FLY
(Alan Rawsthorne)
CROSS OF IRON
(Ernest Gold)
SAFARI 2000
(Ernest Gold)