News
News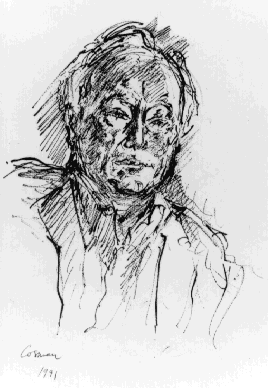 Gerard Schurmann has passed away in Los Angeles on 24 March 2020, aged 96. A Memorial Celebration Service has been arranged for September 27th, 2022, at 12 noon. Anyone interested in attending can request details by sending an e-mail with their contact information to schurmanncarolyn444@gmail.com
The January 2020 edition of Score, The Netherlands' Film Music Magazine, has published a portrait article about Gerard Schurmann, in Dutch.
Released recently is Volume 4 in the Toccata Classics series of Schurmann's Chamber Music. It consists of two Song-cycles -"Chuenchi" and "Six Songs of William Blake" - Flute Sonatina, "Moonbird" for solo flute, and two works for solo piano -"Two Ballades" and "Four Pastoral Preludes".
Also released, in July 2019, was a CD of Schurmann's film music, arranged by himself for the Chandos film CD series, which was recorded in England during 3 days by the BBC Philharmonic Orchestra conducted by Rumon Gamba.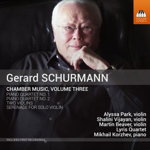 Volume 3 of Toccata Classics' CD series of the chamber music of Gerard Schurmann (TOCC0336) was released in August 2017. 'His two piano quartets, downstream from Bartók, Shostakovich and Britten, present a wide range of moods, from broad and stately tempos to passages of driving energy and excitement. Their quasi-symphonic ambit is contrasted with the tart miniatures of the Serenade for solo violin and the tail-chasing vivacity of Two Violins.' - Toccata Classics [read Gramophone review] [read Music & Vision review]
Romancing the Strings in its nonet version, commissioned by the Arizona Friends of Chamber Music, had its first performance on March 20th, 2016, at the Tucson Winter Chamber Music Festival. There is also a version available for String Orchestra. The work is a set of six variations based on a romantic tune written by the composer for "Dr. Syn", a Walt Disney film based on a novel by Russell Thorndike (1915) and set in the south of England during the reign of George III around the year 1800. The stately theme represents a warmly romantic aspect of what is otherwise an exciting adventure story, involving brandy smuggling from France and starring Patrick McGoohan in double guise as the courageously daring Vicar of Dymchurch, as well as the leader of a rebel band of citizens trying to save the town of Romney Marsh from the King's oppression. View a video of the first performance, beginning with an interview with the composer.
Schurmann is currently preparing and arranging over 70 minutes of his film music from 9 films for a Chandos CD with the BBC Philharmonic conducted by Rumon Gamba, to be recorded at the BBC Studios in Salford in 2018.
Schurmann has written a work for solo piano called Memento in memory of John McCabe. It was commissioned by the Rawsthorne Society and received its first performance on October 29th, 2016 at the RNCM in Manchester, UK.
Schurmann is featured in two recent articles, by Paul Conway on MusicWeb and by Wim Vriezen on the Dutch website The World Online (in Dutch).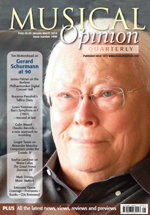 The splendid new quarterly format Musical Opinion magazine features Gerard Schurmann on the front cover, and a 4,000 word feature Gerard Schurmann at 90 inside, with more photos.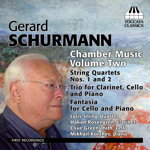 The Lyris Quartet has recorded String Quartets Nos 1 & 2 for Toccata Classics, released in April 2014. Other items on the same disc are the Clarinet Trio with Hakan Rosengren (clarinet), Clive Greensmith (cello) and Mikhail Korzhev (piano), and the 'Fantasia' for Cello and Piano played by Greensmith and Korzhev.
On May 18, 2012, a Schurmann Foundation was established as a charitable trust to promote the music of Gerard Schurmann, and other musical works, through the means of public performance, recording, and broadcasting, as well as books, articles, and films about the composer. For information on whom to contact about the Schurmann Foundation, please go to the Contacts Page.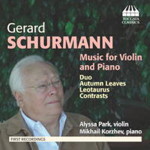 Toccata Classics' 2012 CD of Gerard Schurmann's music for violin and piano features four works: the Duo for Violin and Piano (1982-83), Leotaurus: Theme and Variations for Piano (1974-75), Autumn Leaves for Violin and Piano (2007) and Contrasts for Piano (1973). The performers are violinist Alyssa Park and pianist Mikhail Korzhev.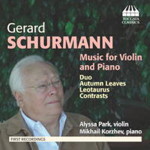 The Canzonetta for Viola and Piano was originally written for Organ and Viola in 1957 for the wedding of a friend. The composer re-arranged the piece last year, with the idea that it would be a suitable work for advanced students and Associated Board Grades 7 & 8. The violist in 1957 was Veronica Leigh, daughter of composer Walter Leigh, who recently suggested this arrangement.
Gerard Schurmann has a new commission to write a String Quartet for the Lyris Quartet in Los Angeles. It will be his second, the first having been composed in 2003-4, not counting two earlier String Quartets, the first dedicated to Queen Wilhelmina of the Netherlands and first performed in her presence in 1943, the second written in 1948. Both of these early Quartets were subsequently withdrawn by the composer.
The American born Korean violinist, Alyssa Park, a Tchaikovsky competition prize winner at the age of 16, will record Gerard Schurmann's Duo for Violin and Piano and "Autumn Leaves" in December 2010 with Russian pianist Mikhail Korzhev for commercial CD release, while in November 2010, Mikhail Korzhev will record two of the composer's solo piano works, "Leotaurus" and "Contrasts" for the same CD.
Autumn Leaves for Violin and Piano received its first performance by Peter Sheppard Skaerved (violin) and Aaron Shorr (piano) at Wilton's Music Hall, London on June 17, 2008.
Gerard Schurmann's Partita for Clarinet, Violin and Piano had its first performance in Washington DC by the Verdehr Trio on March 4th 2007.
First performances of Gaudiana ("Symphonic Studies") took place at L'Auditori Barcelona, Spain on December 2, 3 and 4 2005, played by the Orquestra Simfònica de Barcelona i Nacional de Catalunya, conducted by Rumon Gamba.
The Chilingirian Quartet gave the world première of a new String Quartet by Gerard Schurmann at the Conway Hall in London on October 3rd 2004. The same quartet gave the US première at Irvine Barclay Theatre, California, on April 10th 2005.
Gerard Schurmann's Trio for Clarinet, Cello and Piano received its UK première on March 10th 2005 at the Royal Liverpool Philharmonic Hall, Liverpool, played by Nicholas Cox (clarinet), Jonathan Aasgaard (cello) and Timothy Horton (piano). The work's first performance was at the Tucson (Arizona) Chamber Music Festival on March 5th 2004 by Richard Hawkins (Clarinet), Peter Rejto (Cello) and Christina Dahl (Piano).
The first commercial recording of Gerard Schurmann's Violin Concerto and the Concerto for Orchestra has been released on Chandos 9915. The soloist is the French violinist Olivier Charlier with the BBC Philharmonic Orchestra conducted by the composer. [see reviews]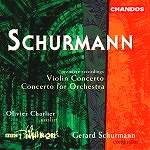 Further Chandos projects in the near future include a recording of Schurmann's Piano Concerto, and other orchestral works played by the BBC Philharmonic conducted by Gerard Schurmann.
Six Studies of Francis Bacon continues to be heard in different parts of the world, with recent performances in Amsterdam (Royal Concertgebouw Orchestra), Seattle (Washington), Aarhus (Denmark), Paris, Geneva, Brussels, and in Kuala Lumpur conducted by James DePreist.
Variants was recently performed in Vienna, Austria, San Remo in Italy, Bratislava in the Slovak Republic, and Trondheim in Norway, as well as by the Manchester Camerata, the Northern Sinfonia, and in the USA by the Northwest Chamber Orchestra in Seattle, at the University of Indiana, Bloomington and by the Omaha Symphony Orchestra.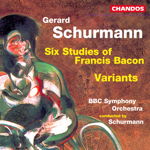 The CD of the above two works (Chandos 9167) performed by the BBC Symphony Orchestra, conducted by the composer, has had its third reissue, keeping it available in the record catalogues for over 20 years.
"This is, in part at least, one of the clearest-voiced Chandos recordings I've heard. Gerard Schurmann's studio broadcast last year, conducting three of his works with the BBC Symphony Orchestra, was a revelation. What impressed then comes across strongly here: the amazing virtuosity, thrust and commitment of this discerning orchestra, evidenced in crystal-clear woodwind and brass, an exciting, sheeny string sound, and thorough preparation.
"These two orchestral works are amongst Schurmann's best. Six Studies of Francis Bacon is as expressionistic as its title suggests – redolent of the late Sixties, but with beautifully transparent quieter sections (No. 3 in particular) and an arch wit, interspersed with glimpses of distortion and madness. This is hard-hitting but highly accessible music, its Lisztian transformations well-crafted.
"Variants, a compact set of variations for Schubert-sized chamber orchestra, is in some ways more striking, though the transfer (despite some dazzling wind roulades and searing Bartókian strings) seems a bit more raspy. It's a pity another work, like the admirable Cello Concerto or Slovak Folksongs, couldn't be included in this 50-minute disc. But Schurmann's deft, brilliant orchestration suits these performers well. The disc offers a useful foretaste of his Concerto for Orchestra, to be premiered at Pittsburgh by Maazel next season. For the adventurous, easily commended." - Roderic Dunnett, BBC Music Magazine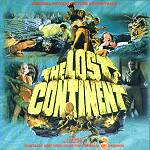 A CD of the music soundtrack from the film The Lost Continent by Gerard Schurmann has been issued by GDI Records, distributed by BMG/Universal, and is now available in the shops.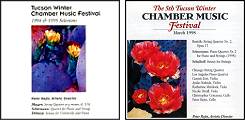 Recordings by the Los Angeles Piano Quartet of the two Piano Quartets, recorded live at the Tucson Winter Chamber Music Festival, are available on separate CDs. They are distributed through record outlets in the USA and Europe.
Peter Rejto was the soloist in a performance of The Gardens of Exile at Oberlin, Ohio, USA on November 16, 2000. The CD of The Gardens of Exile, performed by Peter Rejto and the Pecs Orchestra of Hungary, conducted by Howard Williams, has been reissued in the USA on EQ 24, distributed by Albany Records.

Since its première by the Pittsburgh Symphony Orchestra in their centenary year, the Concerto for Orchestra has received performances in Czechoslovakia by the Janacek Philharmonic and in London by the BBC Symphony Orchestra conducted by Jac van Steen.
On September 27/28 1999, the British Music Society recorded for release on CD, Chuench'i, Six Songs of William Blake, and Nine Slovak Folk Songs [click to listen]. The singers were Alison Wells, soprano and Martyn Hill, tenor, accompanied by the pianist Keith Swallow.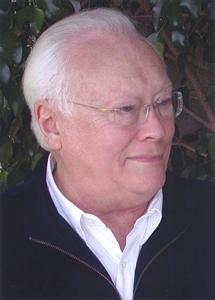 Please watch for further news about new commissions and works in progress.